The first time I saw Las Colinas was through the window of a DART train. I was a contract worker in the Dallas suburb of Irving, Texas and took three buses and two trains to work each day to arrive on time. Unfortunately, I hated the position and dreaded waking up at 4a.m. but the moment the train pulled into the Las Colinas station nothing else mattered. The upscale waterfront apartments, glass buildings and tram that took me over Lake Carolyn to my office made me imagine what it would be like to live there. From these trips, I longed to know more about Las Colinas.
The best way to experience Las Colinas is on foot. Street parking is available in several areas. Just make sure to wear comfortable shoes and bring plenty of water.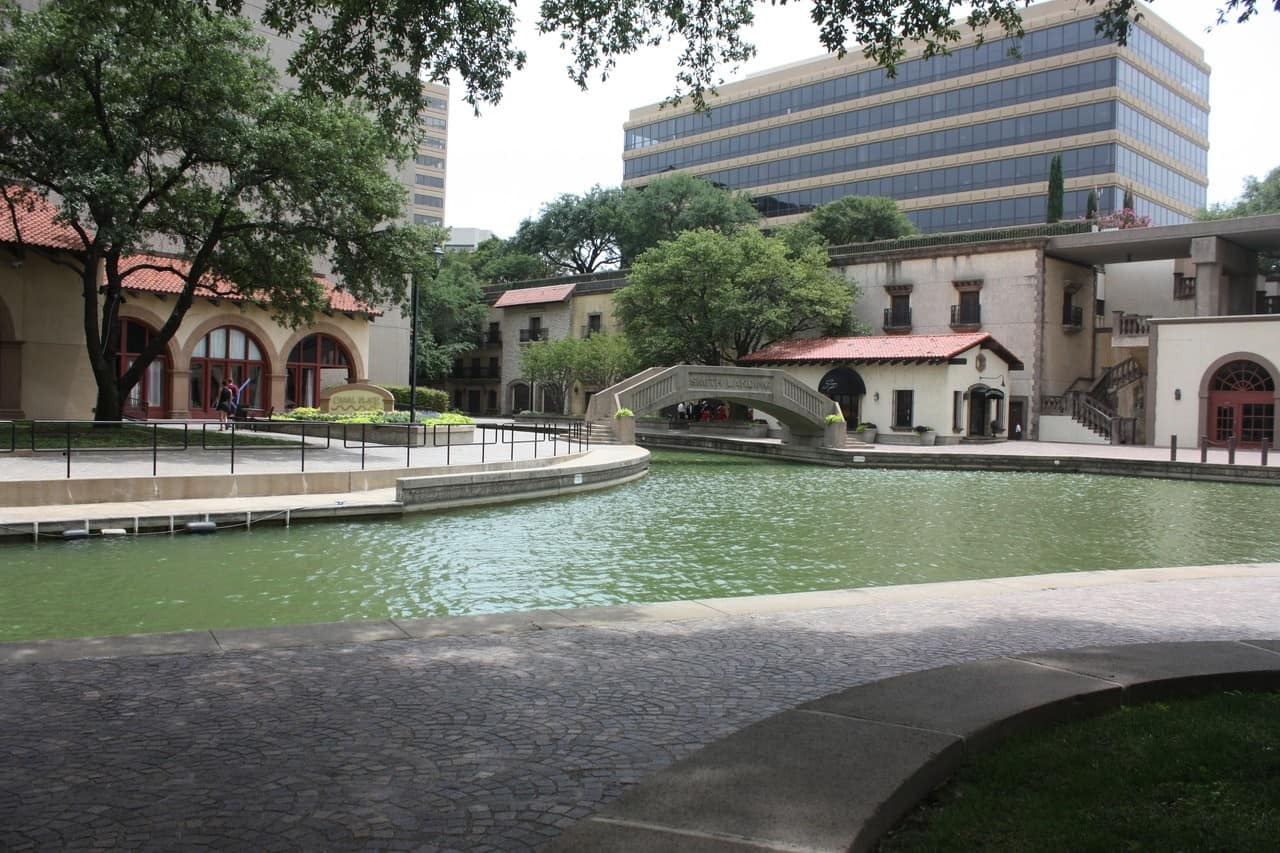 MANDALAY CANAL WALK
Mandalay Canal Walk is approximately 4.5 miles of cobblestone walkway that borders the shops, apartment homes and buildings in Las Colinas. Visitors can enjoy peaceful strolls, gondola cruises, paddle surfing, water blading, dining at one of the fine restaurants or relaxing on the pier and watching the water fowl bathe in Lake Carolyn. The walkway was designed so that every angle captures the beauty of the area's architecture.
MUSTANGS OF LAS COLINAS
The Mustang Sculpture in Williams Square depicts nine wild mustangs, enlarged to one-and-a-half times their normal size, stampeding through a shallow water fountain that is meant to represent a stream. It is the largest horse sculpture in Texas and was commissioned by cattle ranching millionaire, Ben H. Carpenter, who founded and developed Las Colinas.
In 1976, Carpenter contacted his friend and sculptor, Robert Glen, to design a sculpture of horses in Williams Square. Carpenter was so determined that the sculpture be the focal point of the businesses in Williams Square that he had the sculpture placed first and built the businesses around it.
African wildlife sculptor Robert Glen wanted to capture the true essence of the mustang. He went to Spain where the world's remaining purebred mustangs reside. Cross-breeding of mustangs in the United States has all but diluted and eliminated the breed.
The detail Glen reveals in each piece is remarkable. Each horse wears a different expression and is in a different state of motion. At first glance, it appears as if the bronze sculpture is charging towards you.
Visitors are welcome to take pictures and get close to the sculpture, but there are signs asking people not to climb on them.
MUSTANG MUSUEM
Behind the sculpture sits the Mustang Museum. Inside are stills of the mustang sculpture in various stages of completion in addition to other works by Robert Glen. Visitors can watch two short videos that show the process of creating the Mustang Sculpture in Nairobi, Kenya and transporting it to Las Colinas. Admission is free.
It is difficult to see everything in one day, but some other great attractions in Las Colinas include:
National Scouting Museum – Discover the history of the Boy Scouts and view over 60 Norman Rockwell paintings. Admission is discounted for boy scouts and students.
Irving Arts Center – Free Admission. Walk through the art gallery and sculpture garden.
Heritage House – Take a step into the past and walk through a cabin built in 1912.
Heritage Park – If you love history, view the 1887 Caster Cabin, an original library, water tower, windmill, and caboose.
Texas Musicians Museum – View artifacts from some of Texas' famous home-grown musicians.
BIG STATE FOUNTAIN GRILL
Before you leave, make sure to stop by Big State Fountain Grill, one of the best old-fashioned burger shops in Irving. Betty Boop welcomes you at the front entrance and you get to choose whether you would like to sit at the counter or one of the vintage booths or tables.
I sat at the counter and immediately felt as if I had been transported back in time. The walls are lined with black-and-white photographs from the early stages of the town's development and memorabilia from famous musicians and the floor tiles resemble a multi-colored checker board. An Elvis jukebox sits in the back corner of the restaurant, and vintage movies play on two large television screens.
The menu consists of unique burger and sandwich names like the Barney Fife Buffalo Burger, the Hank Williams Sandwich, Marilyn Monroe Cold Sandwich and John Lennon Grilled Cheese. I tried the grilled cheese with onion rings. The food tasted good, the portions were large, and I felt as if I got my money's worth.
Don't leave without having a milkshake or trying the cake. The milkshakes are made from real ice cream, served in an old-fashioned glass with whipped cream and cherries. The cakes are stacked high and served in huge chunks. I ordered the Strawberry cake, but they also serve Italian Cream, Chocolate Fudge, and German Chocolate. The cakes are fresh, moist and delicious. Make sure to take a slice home.
FJS VINTAGE & ANTIQUIQUES
Just down the sidewalk from Big State Fountain Grill is FJS Vintage & Antiques. Inside you can find old vinyl records, vintage phones, musical instruments, clothing, jewelry and more. The Wizard of Oz collection caught my eye. I almost went home with a Dorothy in Oz musical snow globe and a Scarecrow that sings "If I Only Had a Brain."
Instead, I left Las Colinas with a vintage Wonder Woman comic book, a Mustangs of Las Colinas t-shirt, a full stomach, and a new appreciation for mustangs.