Traveling Saudi Arabia changed my life forever.
My friends and family thought I was crazy. Crazy for the decision to accept an offer from a company to work in the most conservative country in the world, the Kingdom of Saudi Arabia. 
While you might watch some changes happening in the kingdom of Saudi Arabia, like lifting the ban on female drivers, Saudi Arabia has a lot to offer that the world doesn't know about. 
I arrived in the kingdom of Saudi Arabia with a working visa (tourist visas were impossible to obtain four years ago) and

 am in the process of obtaining a tourist visa even while writing this article. In 2014, I boarded the plane to leave the Philippines and start my journey to Middle East.
This is my story. My journey that changed my life forever.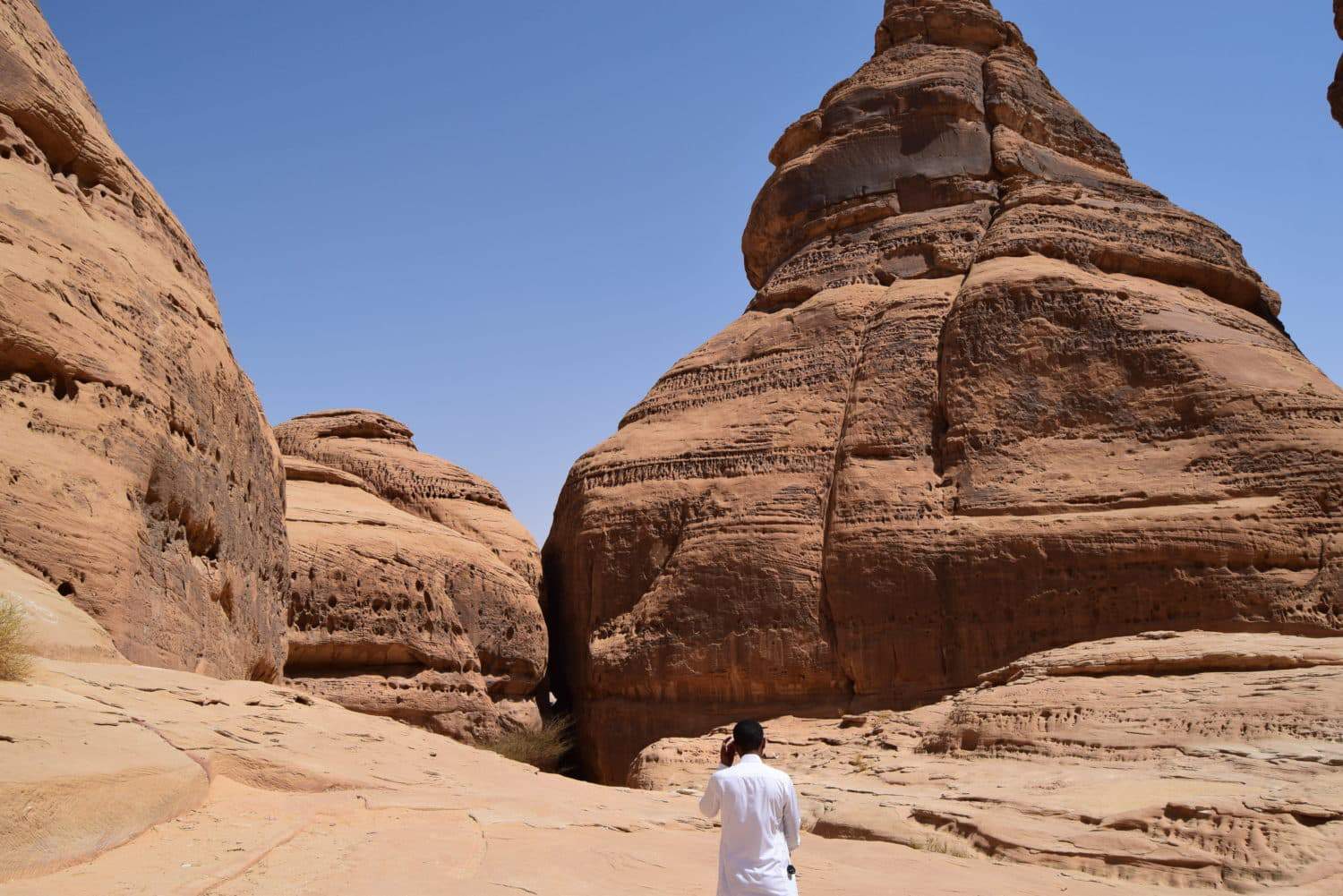 Misconceptions
I arrived in the capital Riyadh, a conservative place where history meets the modern life of the locals and expats. Saudi men wear the traditional thobe and women cover their body from head to toe. I was curious but hesitant to know the culture.
The immigration officer said 

"Welcome to Saudi Arabia" and handed over my passport with a stamp of entry after he took my photo and fingerprint. I didn't understand why my heart pumped fast even I didn't do anything wrong. 
Was it because of the misconceptions about this place? All the negative stereotypes? Or was it
 because I was living a miserable life by not exploring our world? Perhaps I was nervous because until now, I had chosen to be in my comfort zone.
Saudi Arabia is not just camels and deserts. The kingdom has vast desert land but there are also areas where it snows and where mountains are covered with verdant trees. 
The kingdom also has the cleanest seas I've seen.
Jeddah is the most liberal city and home to many expats from different countries. 
Prohibited drugs are punishable by death. Plain and simple. My first six months were a crucial part of my stay where I traveled far out of my comfort zone. I traveled to the most rural areas of the kingdom of Saudi Arabia with fear. But what I discovered was hospitality and kindhearted locals whom I met along the road. I felt safe walking alone in the city street of Abha- the Arab tourism capital of the middle East.
I can not talk to how safe it is for women to travel in this amazing place because I can't relate to it, but I will still suggest traveling, just not solo.
Flavors I won't forget
Saudi Arabia is home to millions of expats living in the kingdom. You can easily find Pakistani's chicken karahi, Indian's Masala, and Southeast Asian foods. However, I always tried to live with the locals and explore Saudi food.
The kingdom has thousand of western restaurants and fast food chains in the hub cities of Riyadh, Jeddah and Dammam. You can even find western favorites like McDonalds.
There is a joke that you can't complete your journey in the kingdom without trying Al Baik chicken. Al Baik is a popular fast food chain in the kingdom that gives American fast food a run for its money.
Note: Consuming Pork is prohibited since it is considered as 'Haram" or a sin and drinking alcohol is a punishable offense so you're not likely to find either in the country.  
A melting pot of the mainland Arabia
Saudi Arabia is a huge country with a lot to offer. Arabic is the main language however English is considered a common language since expats from different parts of the world moved to this country to work and bring their family for better opportunity.
I may not be able to convince you to travel this magnificent country like I did, but one thing for sure it helped me to understand why our world wasn't made perfect. Saudi Arabia has its own charms and imperfections, but what is important is what we can learn from this kingdom.
Leaving the Kingdom of Saudi Arabia may be the painful part, but the memories I take will be with me forever.
Salam! (Peace)
You can follow Hafiz's journeys here.