As America's least populated state, Wyoming's wild, wide-open spaces offer lots of room to roam. Recreational activities abound, and you'll have your pick of things to do with stunning Western panoramas as the backdrop. Whether you're meandering by foot or pushing the boundaries of gravity, you'll love the Cowboy State's scenic grandeur — and keep coming back for more.
Head off the beaten path for these eye-pleasing Wyoming gems, organized by activity.
Medicine Bow Peak Loop delivers glimpses of flower-carpeted meadows and glacial-blue lakes as you trek up the 12,014-foot-high Medicine Bow Peak (the highest dome in the Snowy Mountains).
Nearby town:Centennial
For an easier trip, consider the Popo Agie Falls Trail in Sinks Canyon State Park. You'll appreciate cascading views of Middle Fork Falls on this 3-mile roundtrip route.
Nearby town: Lander
Explore Medicine Bow National Forest on the "easy"-rated Rock Creek Trail. The winding 11-mile out-and-back hugs the trails' namesake stream, features a tumbling waterfall — and offers an optional side trip to evergreen-rimmed Crater Lake.
Nearby town: Arlington
Titcomb Basin is another there-and-back jaunt, though this one clocks in at nearly 30 miles. Backpackers will treasure the rugged Wind River Range views and a confetti of summertime blooms.
Nearby town: Pinedale
Road bikers can relish striking sightseeing stretches through Grand Teton and Yellowstone national parks. Pavement is generally cleared of snow in late March to mid-April, but still not open to cars, so cyclists rule the road.
Nearby towns: Jackson, Alta, Moose, Kelly and Teton Village
If you prefer adventure by mountain bike, Curt Gowdy State Park is loved for its 30 miles of challenging terrain — including the towering "black-diamond" El Alto trail, which heads up a boulder-strewn landscape before depositing you at the park's tippy top.
Nearby towns: Cheyenne and Laramie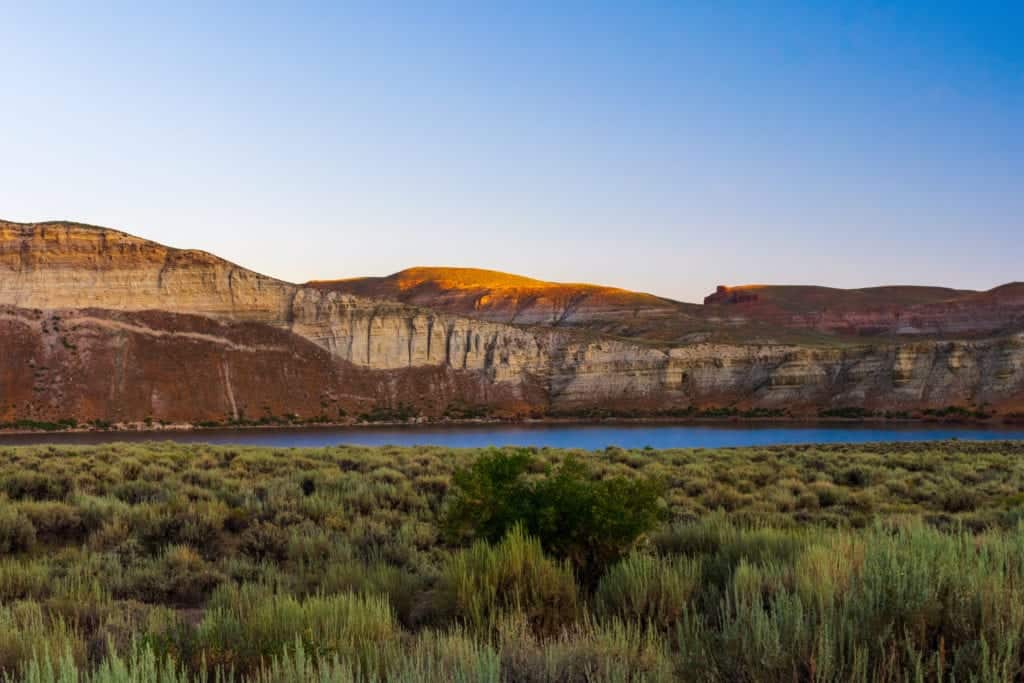 Red-rock views of Flaming Gorge National Recreation Area will astound from any angle, but they're certainly the most beautiful from the water. Mount your watercraft of choice — raft, boat, stand-up paddleboard or kayak — and spend the afternoon surveying the geologic wonder that is the Flaming Gorge Reservoir.
Nearby town: Rock Springs
Outfitters also host a variety of guided rafting and kayaking trips along the rushing Snake River. All excursions feature the natural rugged beauty of the Teton Mountains and can be catered to every experience level.
Nearby town: Jackson
Miracle Mile, found on the North Platte River, is a hot spot for committed anglers. Enlist a local outfitter to unveil their secrets as you search for ginormous rainbow and brown trout.
Nearby town: Casper
Located at the base of Grand Teton National Park, Jackson Lake's deep, frigid waters teem with girthy pike, salmon and trout. Though June through September is prime fishing season, consider a visit in spring when the lake's scaly inhabitants are abundant in the shallows.
Nearby towns: Jackson, Alta, Moose, Kelly and Teton Village
Ten Sleep Canyon delivers world-class climbs with notably short approaches — so you can quickly get to ascending miles upon miles of sheer dolomite crags peppered with pockets and edges. While bolts are plentiful, there's currently a moratorium on setting new routes. Climb-difficulty ratings range from 5.6 to 5.14 with most climbs rated between 5.10 and 5.12.
Nearby town: Ten Sleep
Devils Tower National Monument — a crack climber's dream — is a stout, rocky cathedral boasting sheer dihedrals on all sides. Difficulty ratings for climbs range between 5.6 and 5.13.
Nearby towns: Hulett and Sundance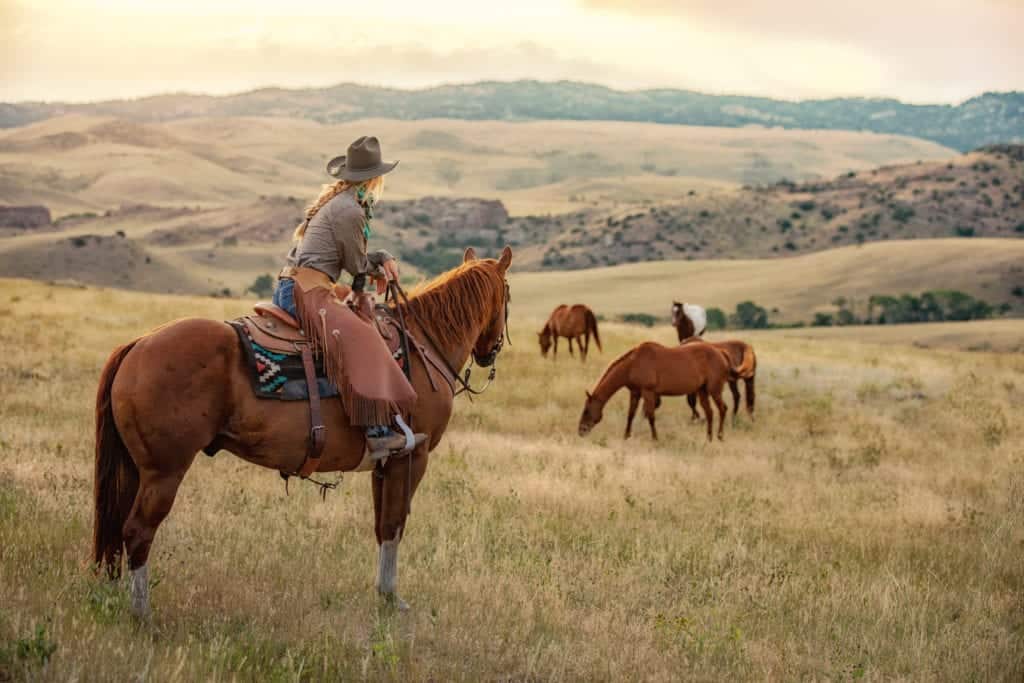 Whether you're seeking an hourlong expedition or a full-day ride, Wyoming's local outfitters supply a variety of options in the backcountry and on public lands. You can trot around Yellowstone and Grand Teton national parks or through the Bighorn, Wind River and Absaroka mountains. Or, explore the wild Wyoming wilderness on a multi-day guided pack trip or with a dude ranch.
Nearby towns: Across the state
Wyoming isn't just a warm-weather destination. Snowsports of all kinds deliver outdoorsy bliss.
Consider crunching through fresh pow on a fat bike, whose monster tires feature big, grippy treads that are tailor-made for winter riding. For flowy-and-fast singletrack that's open year-round, ride the Overlook Trail — a 4.2-mile loop with modest climbs that curve though "painted" hillsides boasting shades of red, beige and cream.
Nearby town: Dubois
Or, clamber on the back of a speeding dog sled with Jackson Hole Sled Dog Tours and mush through some of Wyoming's prettiest peak-strewn backcountry with a team of fluffy huskies and your own Iditarod veteran as a guide.
Nearby town: Jackson
Feel the need for speed? Wyoming delivers nine downhill ski areas boasting a wide range of shreddable terrain — including the family-friendly Snowy Range Ski Area. Head here for snow-capped peaks, towering evergreens and 250 skiable acres — including numerous, swishable blues — perfect for newly minted skiers and riders.
Nearby towns: Centennial and Laramie